I'm excited to announce our newest feature, The Blog Village Social Stats Dashboard! A central location for all of your social media and traffic insights. Get detailed info about your site growth, what strategies are working and see what others are doing that are finding success.
Check out the awesome information you get right at your fingertips: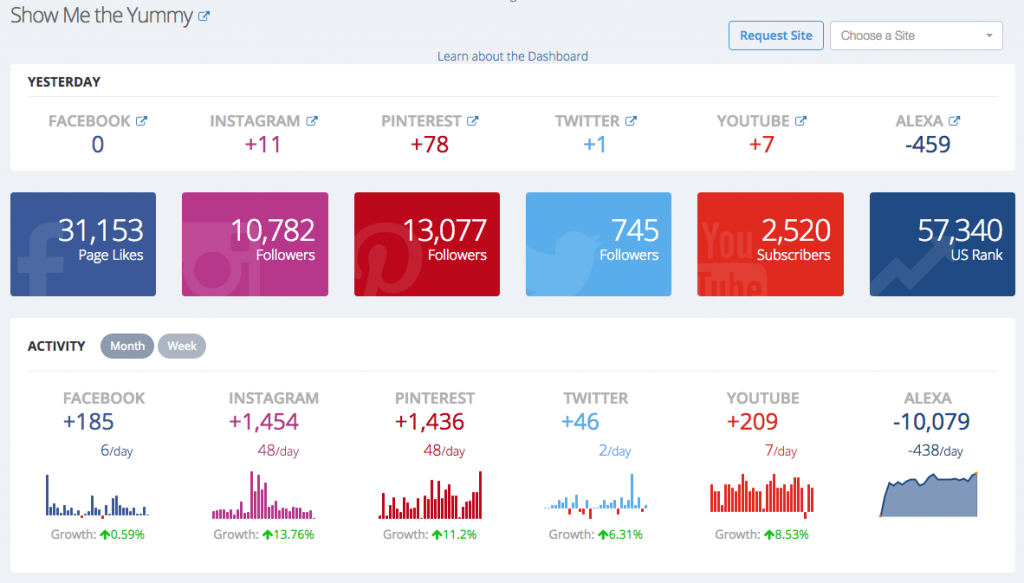 Yesterday

See what your growth across all platforms was in the last day. Use this to measure impacts of trying something new, getting featured, sending out email campaigns, etc. This is the first page that gets pulled up each morning (on the phone, yes it's mobile repsonsive) by us to see exactly what happened yesterday in a clean, clear and quick snapshot.
Activity

Activity is probably my favorite section. Here's where we weed out the spikes and dips and really get to see how things are playing out over a 30 day period.
You get to see your total growth and how that averaged out over the month. Day-by-day bar charts to visualize where and when that growth came from.
Growth shows you how much you've grown over the last 30 days. Here's why I love growth:
Growth is a percentage and percentages are very important for one simple reason. It removes the here and now of your current size and focuses rather on how your blog is performing. If you grow from 100-200 followers, that's huge when you're starting out. 100% Growth!
Growth also helps you to see where you need to start putting some more focus and evaluating what your current strategies are.
Growth doesn't care if you have 100 or 1,000,000 followers.
Charts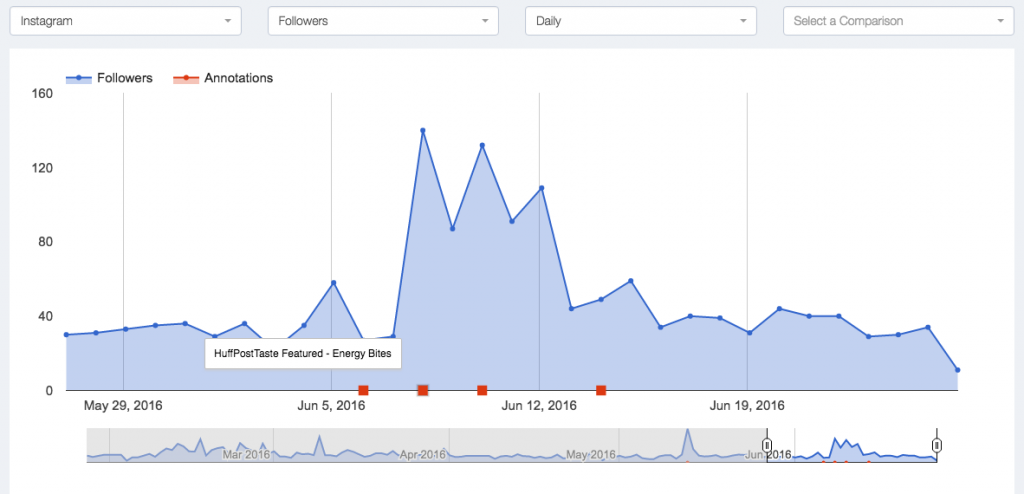 Who doesn't love a good line chart?!? 😉
Track performance over large periods of time daily or cumulatively and see how your various social sharing strategies impact that growth.
You can also make annotations for any of your social media channels and choose to keep them private or share them with others to help the community at large. This is powerful.
Did I Mention…
All of this data isn't just limited to you and your blog. You can find all of these analytics for anyone's blog. That's right, if you've always wanted to know how often someone posts, what their growth is, who are other bloggers the same size as you that you can partner and grow with… all of that information is here.
There are a lot of services online that charge $40-100 just for these types of stats, so we figured why not build it ourselves and share with our community!
More to Come!
This is just the foundation and we already have many new features already in the works! If you're not a member, learn about joining today to get access to this and more great features of The Blog Village!
The Blog Village Social Stats Dashboard is just another feature to help our members track their progress and succeed!